Microfluidic breakthrough in biotechnology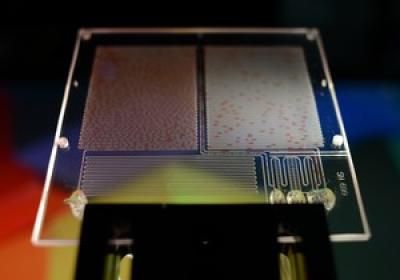 IPC PAS, Grzegorz Krzyżewski
We could safely say that without chemical flask there would be no chemistry at all. It has been since years, however, the chemists' dream to be able to downscale to the microscale the operations that are easily performed with large quantities of chemicals inside flasks, including refilling, mixing, pouring out. The first microfluidic system capable of performing all the typical operations with chemicals inside miniscule droplets has been presented just now. The device, fabricated by a group of researchers from the Institute of Physical Chemistry of the Polish Academy of Sciences (IPC PAS), headed by Dr Piotr Garstecki, allow for performing strictly controlled chemical reactions and cultivation of bacterial colonies inside multiple microdroplets at a time.
The research paper reporting a system for cultivation of bacteria have just been published in one of the most prestigious chemical journals, "Angewandte Chemie International Edition".
Microfluidic systems are fabricated from polymer plates with sizes resembling a credit card or less. Inside the systems, a carrier fluid (mostly oil) carrying microdroplets containing chemicals flows laminarly through tiny channels of diameters in the range of tenths or hundredths of a milimeter. Using a single microfluidic system, up to a few dozen of thousands of different chemical reactions can be carried out during a day.
Existing microfluidic systems featured a serious drawback: they did not allow to carry out and control long-lasting processes requiring to perform thousands of operations on each of hundreds of microdroplets. Due to this limitation, e.g., long-lasting cultivations of microorganisms were not possible. To provide bacteria with normal growth conditions, they must be supplied with nutrients, and metabolites must be removed from their environment on a regular basis.
"Our microfluidic system allows to add to and to collect from each of hundreds of droplets circulating within the device a precisely measured amount of fluid", says Dr Garstecki.
The microsystem from the IPC PAS is composed of two branches of microchannels forming densely arranged zigzags. Up to a few hundred droplets, at a distance of about one centimeter from each other, can circulate in the microchannels. The microdroplets move in a pendular movement from one branch to the other.
Other news from the department science
More news from our other portals