A bendable touch panel with silver nano ink printing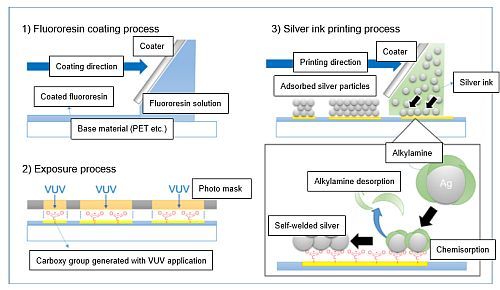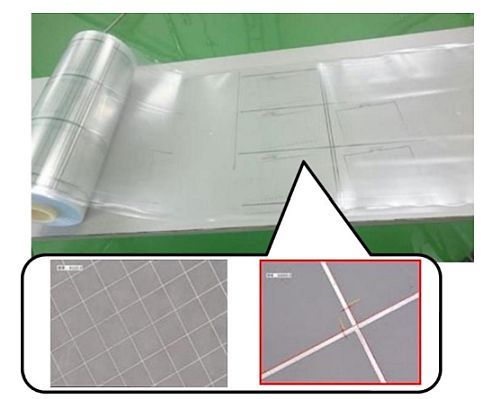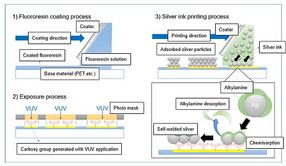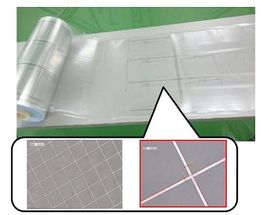 Context
With the increased use of information technology in society, people are demanding access to information in various locations, at various times and in various situations. Touch panels that are integrated with the display are used in many devices, from smartphones, notebooks, large panel to automotive displays.

Moreover, touch sensors now need to be compatible with not only flat panel displays, but also recently-announced three-dimensional curved and bendable displays. Transparent (conducting) electrodes using ITO are mainly used for current touch sensors. However, physical problems such as high electrical resistivity and weakness upon bending imposed limitations on responding to needs for flexibility and increasingly large screen sizes. Metal mesh(MM), in which thin metallic wire is used as the electrode, is being applied on as a material that could solve these problems. However, as the line width and pitch of current MM is thick, the wiring is visible on smartphones, which are used at a short distance. Therefore, it has only come into popular use for large displays.
Development Details
With this new printing technology, a film to which liquid-repelling fluororesin is applied undergoes pattern exposure through a photo mask. Metal ink is then scanned onto it to form the wiring. This technology means that metal wiring with a fixed film thickness can be formed by means of the chemisorption of metal nanoparticles on the fluororesin surface activated by light.

The following technology has been developed to make it possible to manufacture MM film with micro wiring that can also be used for smartphones at a low cost. The project constructed a roll-to-roll production system that has not been available with existing manufacturing methods.


The reaction mechanism for printing was elucidated, ink and fluororesin which was investigated and a method of even printing on large areas was developed. This made it possible to fabricate a 7- to 8-inch sensor film with micro wiring (line width: 2-4 um).
Invisible wiring was developed by postprocessing the sensor pattern design (line width and shape) to respond to market needs. As a result, a MM film that could also be used for smartphones was able to be developed. The ability of this film to withstand 200,000-frequency (radius: 2 mm) bending test was also confirmed.
Equipment for each process was developed and a manufacturing method with the roll-to-roll process was established. In a manufacturing experiment for the line width 4 um MM film, the 10m roll length achieved more than a 95% yield rate was achieved.
Anticipated Effects
This successful development is expected to enable the low-cost manufacturing of high-functioning touch panel sensor films that can be used for three-dimensional curved or bendable displays.

This manufacturing of a micro wiring film with full process roll-to-roll process is the first of its kind in the world. It is a breakthrough technological innovation for printed electronics used in the flexible electronic device market. It is anticipated that this technology can be not only applied and used in electronics fields such as OLED displays, IoT device wiring and electrodes, but also in the manufacturing of functional films such as antibacterial films, films for catalysts and thermal insulation films.
Other news from the department science
More news from our other portals