Fluorescent fingerprints
23-Mar-2009
-
Korea, Republic of (South Korea)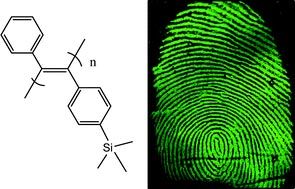 Kwak and colleagues use a highly fluorescent conjugated polymer film to detect fingerprints. All latent fingerprints contain oil residues, made up of triglycerides, wax esters and squalene, which are deposited when the fingerprint was made. On contact with the fluorescent polymer film, these residues diffuse into microvoids throughout the film resulting in film swelling and an increase in fluorescence intensity. High resolution images with clear ridges and valleys are obtained using this technique, which could help aid officers investigating crime scenes.
Significantly, the fluorescent conjugated polymer film is responsive to even slight amounts of oil residues, and therefore will be effective in spite of individual variations of quantity.
'We expect the present polymer film to be a useful material for convenient, non-destructive fingerprint detection and highly reliable evidence accumulation in criminal investigations,' says Kwak.
Original article: Kwak et. al.; "Fluorescence imaging of latent fingerprints on conjugated polymer films with large fractional free volume"; Chem. Commun. 2009
Other news from the department science
More news from our other portals