SRI spins off AI-powered drug discovery platform Synfini, Inc.
Synfini to commercialize and scale automated compound testing for rapid drug production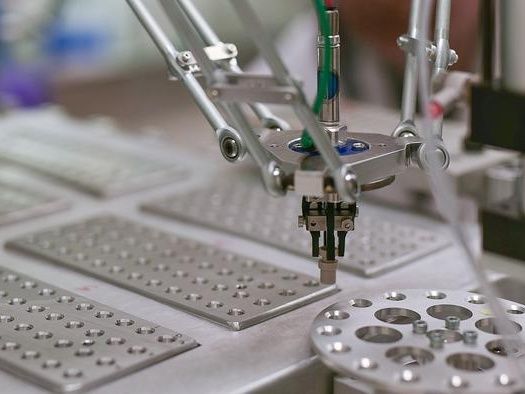 The technology brings together a suite of software and hardware solutions developed at SRI through a significant, multi-year development effort. The suite includes a neuro-symbolic AI molecule designer, a computational synthetic planning tool, a high-throughput automated chemistry system, and a flow chemistry hardware platform that reliably performs multi-step synthesis.
"At SRI we are always tremendously excited to see the extraordinary technologies developed in our labs go to market," said David Parekh, SRI's chief executive officer. "Synfini's suite of hardware solutions, combined with cutting-edge AI technologies, holds great promise for accelerating the speed at which biopharma companies can develop new therapeutics — and for creating a healthier future for all."
The co-founding team of the new company, Synfini Inc., includes Chief Executive Officer Doug Donzelli and Elizabeth Miyagi, VP Finance, with the shared vision of creating scalable operations for rapid synthesis and testing of individual molecules or molecular classes to advance the fields of pharmaceutics, agrochemicals, and specialty chemicals. It also includes Peter Madrid, Ph.D., and Nathan Collins, Ph.D., who played leading roles in SRI's development of the Synfini suite as head of the Applied Research group of SRI's Biosciences division and chief strategy officer of the division, respectively.
"We are just starting to see the impact of AI across so many industries, and when AI technology is combined with the Synfini platform we have a meaningful opportunity to significantly improve the pharmaceutical development process," said Kathlynn Brown, president of SRI's Biosciences division. "We are proud of the work we've done, and we look forward to supporting the team at this new company as they continue to advance innovation in drug discovery, testing, and delivery to improve health and well-being."
Synfini will offer visionary leaders in biopharma who are bringing pharmaceuticals into commercial use the ability to understand outcomes faster, increase the value of their work, and quickly pivot to new drugs based on rapid clinical findings. Synfini also offers pharmaceutical companies the ability to reduce costs, streamline the go-to-market process, and make an even greater impact on healthcare outcomes around the world.
Synfini joins a long line of technologies to be spun off from SRI intellectual property over the nonprofit's 75-plus-year history. Consistent with its mission of developing and delivering world-changing solutions, SRI intellectual property is behind many of the world's best-known technologies and companies, including Siri and Intuitive Surgical.
"We are incredibly proud of our long history of bringing transformative technologies to market," said Suresh Sunderrajan, president of SRI's Commercialization group. "We know that Synfini will have an extraordinary impact on the world of pharmaceutical development, and we are excited to see a platform built at SRI thrive as an independent company."
Other news from the department business & finance
More news from our other portals
Something is happening in the life science industry ...
This is what true pioneering spirit looks like: Plenty of innovative start-ups are bringing fresh ideas, lifeblood and entrepreneurial spirit to change tomorrow's world for the better. Immerse yourself in the world of these young companies and take the opportunity to get in touch with the founders.