Slica-free alternative to traditional HPLC columns for extraction, also from crude extracts
Chromatographic purification of natural compounds presents many challenges to scientists because of the complex nature of the starting matrices that are used in the process.
These starting materials can damage traditional columns and cartridges, decreasing the length of their usage and increasing costs; that is, if the particular system can even accommodate the starting material.
Centrifugal partition chromatography (CPC), which uses both liquid stationary and mobile phases, can handle heavily contaminated, complex starting materials, such as direct extracts from many biological sources, and has been shown useful for the isolation of piperine from Pipernigrum, gingerol from ginger and hundreds of other natural compounds from plants.
Additionally, by relying on a liquid stationary phase, CPC columns do not need to be replaced like traditional columns and cartridges used by preparative HPLC and flash chromatography methods.
This article will discuss the basic principles behind CPC and explore the use and benefits of CPC in the purification of cannabinoids from crude cannabis oil.
White Paper classification
Applications
centrifugal partition chromatography
chromatographic purification
natural compound purification
Product categories
Download white paper now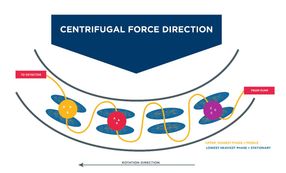 Cost-efficient purification of natural compounds
Slica-free alternative to traditional HPLC columns for extraction, also from crude extracts