Remote medical image diagnosis
Startup provides app free of charge during corona crisis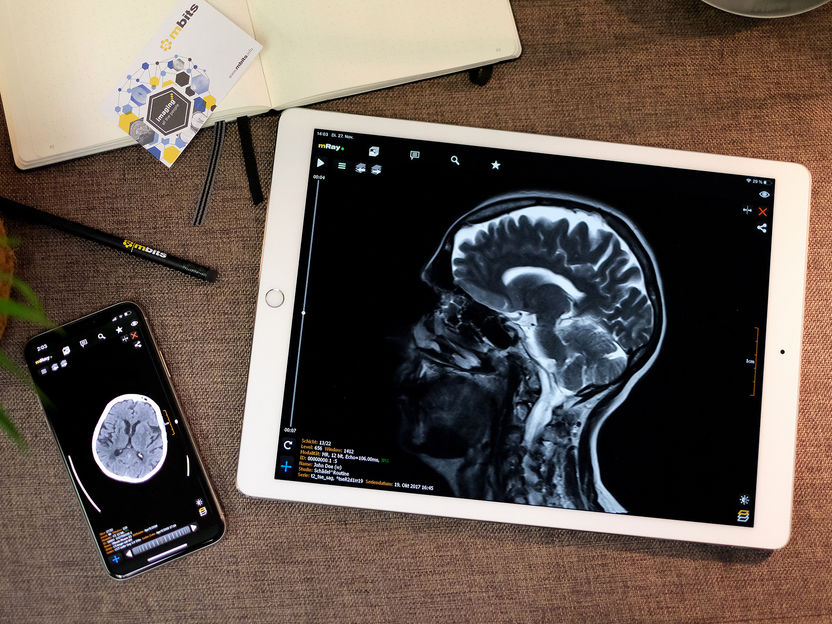 mbits, the medical image processing specialists around two former DKFZ researchers Michael Müller and Ingmar Gergel develop professional radiological software solutions for mobile devices. The research group had already started working in the field of medical image processing software at DKFZ in 2011. In the summer of 2015, the medical computer scientists founded the company mbits imaging GmbH with DKFZ participation.
Many hospitals currently facing the challenge of setting up home offices are providing their staff with remote access to computers at their workstations via VPN connections. However, the sole access to the clinic workstation is not sufficient in the coming weeks. Doctors need to be able to exchange information quickly. They need access to their hospital's image archiving system (PACS) and the ability to view, send or even diagnose medical image data on mobile devices.
Right now many hospitals are urgently looking for a way to enable their staff to view and report radiological image data from home. Therefore, mbits has decided to make mRay available free of charge for the duration of the crisis, but at least for the next two months. All clinical departments and physicians can use the mobile platform, which works with standardized DICOM data formats, without restrictions. Thus, the company wants to ensure that medical staff can communicate with each other even in the event of a quarantine, and that doctors can view images from home if necessary.
With this offer, the mbits team wants to support the work of those who are now fighting against SARS-CoV-2 by containing the spread of the pathogen and taking care of the infected.
mRay has been in use for several years in numerous university hospitals. The mbits developers are currently working hard to make new installations possible quickly and unbureaucratically.
Other news from the department science
More news from our other portals
Something is happening in the life science industry ...
This is what true pioneering spirit looks like: Plenty of innovative start-ups are bringing fresh ideas, lifeblood and entrepreneurial spirit to change tomorrow's world for the better. Immerse yourself in the world of these young companies and take the opportunity to get in touch with the founders.