Perform antibody characterizations in real-time and high-throughput
Whilst traditional methods of antibody quantitation require highly trained personnel to use specialized instrumentation (HPLC) or are considerably time consuming (ELISA), the Octet® system delivers a platform for cell line development scientists to rapidly quantify antibody titer, quickly select optimal clones and reduce development time for biologics.
Combining quantitation assays with a novel GlyS Kit allows to perform both titer and sialic acid content screening on the same sample. There is no need for sample purification or glycan digestion steps.
Learn how to save valuable resources by combining critical characterization assays into one real-time platform.
Bio-Layer Interferometry (BLI) allows for the evaluation of multiple product properties such as titer, antigen binding or glycan content, offering users a key benefit over comparative technologies. A new Sialic Acid (GlyS) kit facilitates screening for sialic acid on the Octet® systems using ready-to-use biosensors and kit reagents, thereby enabling the screening of up to 1000 antibody clones in just one hour. Download the application overview to learn how the sialic acid screening assay can be combined with an IgG titer assay using Protein A/G coated biosensors to provide both titer and sialic acid content determination from the same sample in one assay.
White Paper classification
Applications
antibody characterization
Product categories
Download white paper now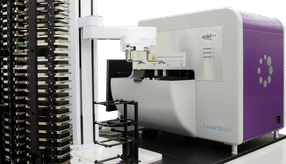 Discover the future of HPLC and ELISA today
Perform antibody characterizations in real-time and high-throughput
FortéBio - A Sartorius Brand