Sartorius Grows by Double Digits
Number of employees grows by around 12% to more than 6,900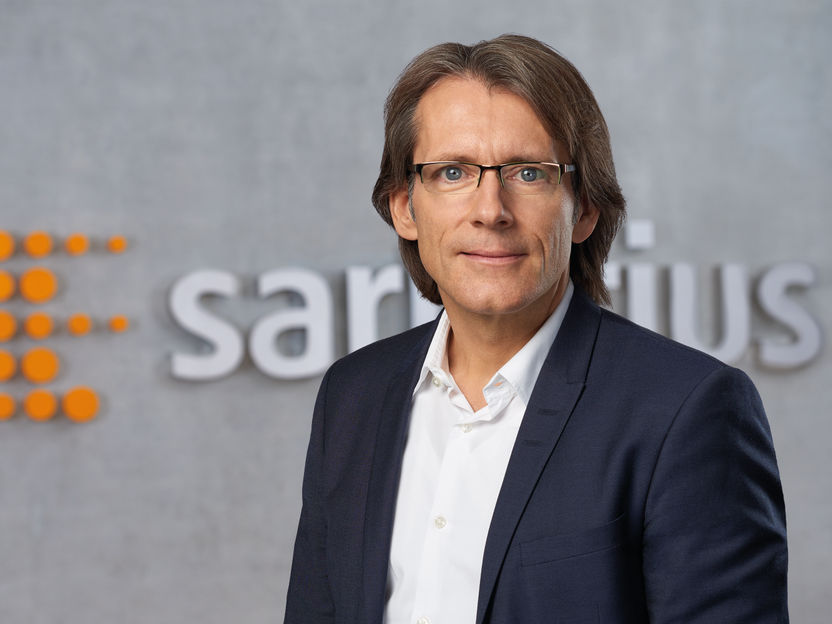 "The year 2016 was highly successful for Sartorius, both operationally and strategically," commented CEO Dr. Joachim Kreuzburg. "Our Bioprocess Solutions Division is continuing to expand strongly. As a supplier for the biopharmaceutical industry, the division addresses a very dynamic market and is additionally gaining market share in the important North American market. Also, our Lab Products & Services Division achieved its targets, reporting profitable organic growth, and has considerably sharpened its strategic positioning, especially with biopharmaceutical lab customers, due to our two recent acquisitions."
Business Development of the Sartorius Group
Sartorius increased its sales revenue by 18.2% in constant currencies to 1,300.3 million euros in fiscal 2016, up from 1,114.8 million euros a year ago (reported +16.6%). All regions recorded double-digit growth rates, contributing to the company's excellent business performance. Regionally, Asia|Pacific and the Americas expanded at the strongest rates, with sales up 21.2% to 285.8 million euros and up 21.0% to 445.4 million euros, respectively. This significant expansion was driven in part by some large equipment projects in Asia, while, in the Americas, it was fueled by further market share gains with single-use products and overproportionate growth contributed by the most recent acquisitions. In the EMEA region, Sartorius recorded an increase in sales by 14.7% to 569.1 million euros. (All regional figures in constant currencies)
Earnings in the reporting period rose overproportionately again relative to sales. Sartorius thus increased its underlying EBITDA by 23.6% to 325.4 million euros, and its respective margin rose from 23.6% to 25.0%. Relevant net profit for the Group grew by 23.5% from 107.4 million euros to 132.6 million euros. Earnings per ordinary share totaled 1.93 euros (2015: 1.57 euros4) and earnings per preference share 1.94 euros (2015: 1.58 euros).
The Group's key financial indicators continued to remain at a strong level, despite three acquisitions executed in 2016. At the end of the reporting period, the company's equity ratio was 42.0%, and the ratio of net debt to underlying EBITDA stood at 1.5 (Dec. 31, 2015: 44.9% and 1.3, respectively).
In view of its continued strong organic growth, Sartorius accelerated the implementation of its investment program. Besides extending its Group headquarters in Goettingen, Germany, the company started to expand its single-use filter and bag production plant in Yauco, Puerto Rico, earlier and to a greater extent than initially planned. Capital expenditures rose in the reporting year from 113.1 million euros to 152.1 million euros; the respective ratio of capital expenditures to sales revenue was 11.7% following on 10.1% a year ago.
Sartorius employed 6,911 people worldwide at year-end 2016, thus 11.7% or 726 more people than a year earlier. Of this number, 77 people joined the company due to acquisitions.
Business Development of the Divisions
The Bioprocess Solutions Division, which focuses on single-use products for the manufacture of biopharmaceuticals, proved to be the growth engine in the reporting year yet again. Within a continued dynamic market environment, the division increased its sales by 22.1% in constant currencies to 975.0 million euros (reported +20.5%). Organic growth was around 20%; acquisitions contributed around 2 percentage points. Driven by economies of scale, underlying EBITDA of the Bioprocess Solutions Division rose overproportionately relative to sales by 27.5% to 273.5 million euros. The division's margin reached 28.0% compared with 26.5% a year ago.
The Lab Products & Services Division, which offers instruments and consumables primarily for the pharmaceutical sector and public research, also continued its positive business development in the reporting year. Its sales revenue increased 7.9% in constant currencies to 325.3 million euros (reported +6.5%). The companies acquired at mid-2016, IntelliCyt and ViroCyt, contributed about 3 percentage points to this gain. Underlying EBITDA for the division rose 6.5% to 51.9 million euros. Its margin of 16.0% was at the previous year's level as expected because the positive effects of economies of scale were temporarily diluted by the recent acquisitions.
Positive Outlook for Fiscal 2017
Sartorius expects to grow profitably again in the current year. Specifically, management projects that Group sales revenue for the full year will grow by about 8% to 12%. The company's underlying EBITDA margin is forecasted to gain around half a percentage point over the prior-year figure of 25.0%. Due to further investments in strong organic growth, Sartorius projects a capex ratio of around 12% to 15%.
In view of the two divisions, management anticipates that sales for Bioprocess Solutions will grow by about 9% to 13% and the division's underlying EBITDA margin will rise by around half a percentage point compared with the prior-year figure of 28.0%. For the Lab Products & Services Division that partially depends on general economic trends, Sartorius projects that assuming an overall stable economic environment, sales will increase by about 6% to 10% and the division's underlying EBITDA margin will rise by about one percentage point(2016: 16.0%).
Other news from the department business & finance
More news from our other portals