Automated powder dispensing to increase R&D efficiency
The Enabling Technologies Consortium™ (ETC) is a group of major pharmaceutical and biotechnology companies who collaborate on issues related to pharmaceutical chemistry, manufacturing, and control (CMC) for the benefit of the pharmaceutical industry. The task of dispensing defined amounts of powders is increasingly important in pharma R&D, especially in the area of High Throughput Experimentation (HTE) such as screening applications, where it is currently considered a bottleneck.
Therefore, improvements in automated powder dispensing technology would
benefit API and drug product R&D, by alleviating the bottleneck
serve to increase R&D efficiency, resulting in reduced lead time for new treatments.
Prior to this ETC study, it was generally assumed that no existing automatic powder dosing technology meets the requirements of all substances or applications. However, the study has shown that the automatic powder dosing technology Quantos from METTLER TOLEDO is suitable for handling a wide variety of powder types, including those with unusual physical properties.
Quantos can accurately dose even low target weights in different environments, making it a general laboratory application that is intuitive to all employees. The platform also offers significant safety benefits as the user is minimally exposed to the dosed substances. Most importantly, it helps address bottlenecks in pharmaceutical R&D screening and formulation processes.
White Paper classification
Applications
automated powder dispensing
high throughput experimentation
Download white paper now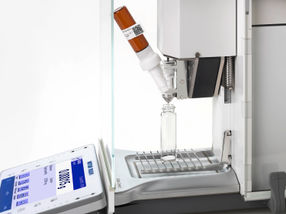 ETC Powder Dispensing Study
Automated powder dispensing to increase R&D efficiency
You may also be interested in these white papers