Verified
Catalog: Optinova PEEK Tubing
PEEK tubing: the ultimate lightweight alternative to stainless steel
Optinova Holding Ab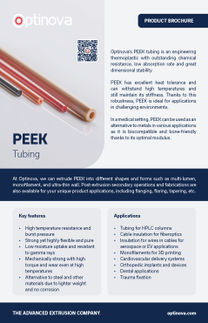 PEEK's properties make it ideal for HPLC applications, analytical systems and other fluidic needs
PEEK is a high-performance engineered polymer that is well known for its very high degree of hardness even at elevated temperatures. PEEK tubing has one of the highest strength-to-weight ratios of any thermoplastic and the strength required to withstand continuous use at HPLC pressure. The chemical and mechanical properties of PEEK allow it to be used in many situations where stainless steel would become too reactive.
PEEK's smooth internal surface also reduces the risk of dilution and improves the resolution of sample bands. Due to its high purity, PEEK tubes do not leech out damaging 'extractables' and is very effective in the trace analysis of complex fluids. PEEK tubing is designed specifically for modern LC, LCMS and automation usage.
As an expert in the advanced polymer extrusion industry since 1971, Optinova is known for our diverse product portfolio and the full-service extrusion experience that we offer our customers. Contact us today and let us prove how we could add values to your business!
Product classification
Applications
Cardiovascular delivery systems
Product categories
High-performance polymer tubing
Target Industries
Request product information now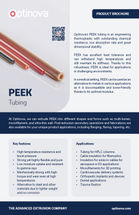 Catalog: Optinova PEEK Tubing
PEEK tubing: the ultimate lightweight alternative to stainless steel
You might also be interested in these products